Have you ever felt like this when booking airfare? "I'd like to book a seat in Basic Premium Extra Plus Comfort Class that includes exit row seat assignments but without an extra carry on bag."
Knowing what class of airline seat you were buying didn't use to be hard. There were only two or maybe three classes to choose from. First Class. Business Class and Coach. Yep, that's Coach. Not Economy. Not Main Cabin. Not Core. Just plain old Coach. And you know what? Everyone was fine with that. No one was complaining that the names were inappropriate. You knew what class you were in and everyone was happy.
Flash forward to today and numerous names are differentiating the seat choices offered by each airline. None of the names are the same and names that happen to be similar can still mean very different seat types. American Airlines leads the pack with eight different types of categories. United follows closely behind with seven and Delta has six. Southwest Airlines is the easiest to understand, as they only have one class of seat, and they don't even bother to give it a name. 🙂
Here's my attempt to make sense of all of these names, from top to bottom…
Start with the most difficult one first and then everything will seem easy after that, right? Off we go!
Flagship First – This is American's premier product used on international flights between the U.S. and Asia, Australia, Europe and South America on 777-300 aircraft and domestic flights between JFK and SFO, LAX and SNA between LAX-MIA or BOS.
Flagship Business – As the first-class Flagship offering, this seat is offered on international flights between the U.S. and Asia, Australia, Europe, New Zealand and South America on aircraft with lie-flat seats: Boeing 777-200, 777-300, 787-8 and 787-9; and Airbus A321T. Flagship® Business Plus is only available on Boeing 777-200, 787-800 and 787-900.
First Class – This is the name American gives to the seats in the front of the plane on the rest of their domestic US flights. These are not lie-flat versions like on international flights.
Business Class – This is the top level of service offered by American on their shorter international flights between the U.S. and Bermuda, Canada, the Caribbean, Mexico, Puerto Rico and select South American cities on aircraft without lie-flat seats: A319, B738, B7M8
Premium Economy – A Premium Economy ticket includes special amenities with seats behind Flagship, Business or First. You can buy a ticket on these aircraft, with more coming soon:

777-300s
787-8s flying internationally and to Alaska
787-9s
A330-200s
777-200s

Main Cabin Extra – These seats in the economy cabin are the same as the others but have extra legroom and include beer, wine and spirits.
Main Cabin – As American puts it on its website, "A Main Cabin ticket is more than just a seat – it includes everything you need for an enjoyable flight." Free snacks and entertainment are included.
Basic Economy – No frills ticket with no extras and lacking things you used to get for free, like a seat assignment.
United Airlines
United Polaris – In December 2016, United Polaris business class service replaced United BusinessFirst and United Global First service. Just recently, all long-haul 787's now feature the United Polaris seat.
United First – This is the first-class product on flights within the US including Alaska, Hawaii, and Canada. This will be a seat in a first-class leather recliner.
United Business – Available on United flights between the US and Latin America or the Caribbean as well as select U.S. transcontinental flights. Very similar to domestic First.
Premium Transcontinental Service – Available on flights between New York (EWR and JFK) and LAX and SFO.
Economy Plus – Extra legroom seats in the front of the Economy cabin
Economy – Regular seat on the plane including seat selection and carry on bag
Basic Economy – Bare bones ticket. Don't purchase unless you know all the restrictions this ticket has.
Delta One – The premium offering from Delta (some aircraft have suites with full height doors) available on long haul international flights and select domestic flights;
Delta Premium Select – A separate premium cabin available on select international routes, offering better seats with additional recline and plated meals
First Class – Delta's premium domestic product, offering wider seats, power outlets, better seatback entertainment and additional legroom.
Delta Comfort+ – Available on domestic and international flights, these seats have increased legroom and dedicated overhead bin space.
Main Cabin – Basic Delta seats located in the back of the plane, most of which have access to seatback entertainment and charging ports. Of course, you can always upgrade to a "Delta Preferred" seat.
Basic Economy – No way to hide that you're selling a no-frills ticket. Here's what you get from a basic economy ticket on Delta.
From here on out, things get much easier to understand. Since the following airlines only fly within the US and to the Caribbean, Mexico and Central America, there isn't a huge need for these planes to have flatbed seats. Well, that's unless you want to compete against the above airlines on transcontinental routes. We'll get to that in a second.
Alaska Airlines
First Class – I've heard Alaska's previous first-class seats referred to as Barcalounger class. Alaska is updating their first-class offering to Recaro leather seats with power outlets, generous recline, and 40″ pitch so it no longer looks as if you're flying while seated in Grandpa's chair.
Premium Class – A regular seat with an additional 4 inches of legroom and complimentary cocktails, wine or beer and a snack.
Main Cabin – This is the base level seat on an Alaska plane.
Saver Fare – This is Alaska's version of a basic economy fare. Seats are the same but there are some restrictions:

Limited seating may be available at the time of purchase. Most seats will be assigned at check-in.
We can't guarantee that parties of two or more will be seated together.
No refunds are allowed beyond the first 24 hours after ticketing.
No changes, including same-day confirmed changes, are allowed for Saver fares.
No standby is allowed for Saver fares, even for elite status guests.
If a guest is a no-show for any flight during a trip, all other flights within that trip are automatically canceled, with no refund available.
Saver fares cannot be combined with any other fare types on the same itinerary.
Saver fares are non-transferable.
JetBlue
Mint Premium Travel – This is JetBlue's successful attempt to compete with the major airlines on transcontinental routes. They have since added this service to many Caribbean destinations as well as the newly launched flights to London. Fully lie-flat seats, artisanal meals, free WiFi and in-seat entertainment are all included. Here are the current flights where JetBlue flies planes with Mint seats.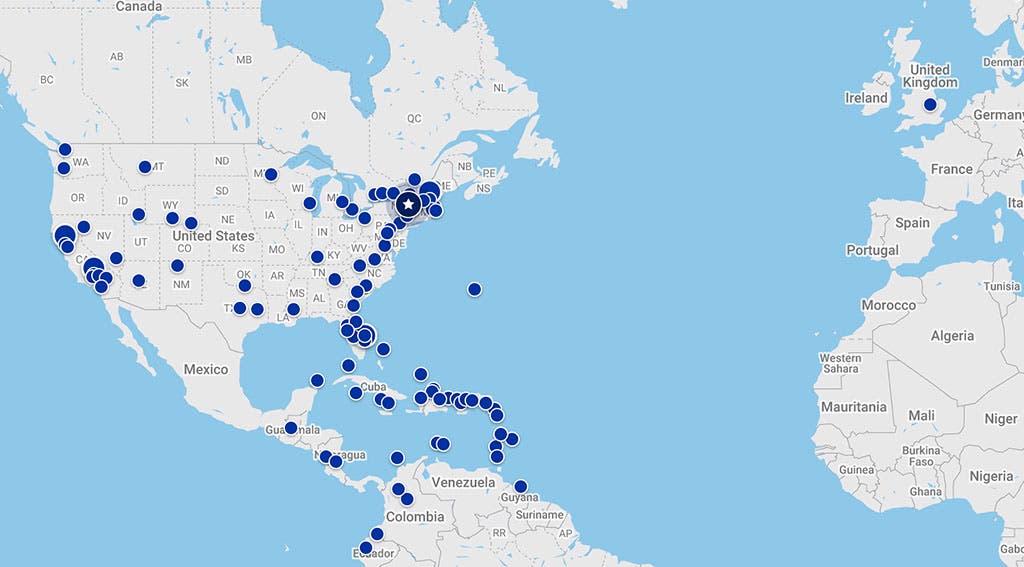 Even More Space – If not evident by the name, these are the base seats with added legroom. You also get earlier boarding and access to overhead bin space.
Core Experience – These are the normal JetBlue seats. Everyone gets a seatback entertainment screen with DirectTV and SiriusXM and free Wi-Fi for your personal devices.
Blue Basic – This is the JetBlue basic economy ticket. You'll get the same seat but there are more restrictions than if you'd booked a Blue fare.
Spirit
The Big Front Seat – In true Spirit fashion, there's no question about what you're getting when you purchase this upgrade. It's a bigger seat and it's up front, or in their words: "For a little extra cash, you can secure the best deal in the sky. No middle seat, more space, and extra-legroom — you know, if you're into that sort of thing."
Bare Fare – When you purchase a Spirit ticket, you're getting a seat. That's all. I'll let Spirit describe the rest. "We believe in only paying for what you use, not what you don't. Control what options you add to your Bare Fare™ and never pay for someone else's "free" bags."
Frontier
Stretch Seating – These seats have extra legroom and are "laptop friendly." This is important if you want to work on a computer that's not on your lap, as I found out on our first Frontier flight.
Standard Seating – The standard seats on Frontier. You have to pay for any seat assignment or they will select seats for you during check-in.
Southwest
Open Seating – Southwest has a novel open seating system where there are no seating assignments. So there are no better seats or paying for upgrades. Of course, you can pay to get on the plane sooner so you get a better seat, but that's not what this article is about.
Final Thoughts
I understand that airlines want to differentiate their products by giving them special names. However, having business class seats that are nicer than first-class and several different types of economy tickers is confusing. I shouldn't have needed to write this article but since I did, I hope you found it helpful.
Want to comment on this post? Great! Read this first to help ensure it gets approved.
Want to sponsor a post, write something for Your Mileage May Vary, or put ads on our site? Click here for more info.
Like this post? Please share it! We have plenty more just like it and would love it if you decided to hang around and sign up to get emailed notifications of when we post.
Whether you've read our articles before or this is the first time you're stopping by, we're really glad you're here and hope you come back to visit again!
This post first appeared on Your Mileage May Vary