Having a well-loved and respected person of American history on a bank card is not particularly unusual. Seeing her doing a fictional salute on said bank card? That's very different.
So why DOES it look like Harriett Tubman is throwing the Wakanda Forever salute on a bank card? I found out!
OneUnited Bank is one of the largest black-owned banks in the country. They've been considering to have the likeness of Harriet Tubman on a debit card since 2016. But when the current administration would not move forward with the Obama-era plan to put her image on a $20 bill in 2020, they decided the time was right.
However, they didn't want to use any of the photos that usually portray Tubman in a fairly passive pose. She deserved better than that. After all, Harriet Tubman managed to escape slavery, and then became a famed activist and the most famous "conductor" on the Underground Railroad. She's one of the most well respected and loved people in U.S. history. So OneUnited wanted to portray her as and with a symbol of love. From Twitter:

So they came up with this. The artwork, adapted from painting called, "The Conqueror," was done by Miami artist Addonis Parker:
The only thing is that the American Sign language sign for "love," which looks like this:
…looks a whole lot like the Wakanda salute from Marvel Studios' Black Panther movie: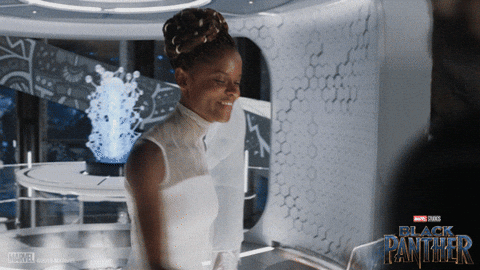 So they got a little ribbing about it, and a more than a few people found it offensive.
"Bury me in the ocean, with my ancestors that jumped from the ships, because they knew death was better than Harriet Tubman hitting the Wakanda salute on debit cards," was the comment of one Twitter user.
But that's why the representation of Harriet Tubman looks like the way it does.
Here's a video of the story behind the card, as well as its unveiling.
The Harriett Tubman Visa Debit card is the ninth in a series that began in 2016, featuring "unapologetically black" figures, as per Teri Williams, OneUnited's president and chief operating officer. It's also the bank's first limited edition card. It initially became available during Black History month and will only be issued in 2020.
Like this post? Please share it! We have plenty more just like it and would love it if you decided to hang around and get emailed notifications of when we post. Or maybe you'd like to join our Facebook group – we have 12,000+ members and we talk and ask questions about travel (including Disney parks), creative ways to earn frequent flyer miles and hotel points, how to save money on or for your trips, get access to travel articles you may not see otherwise, etc. Whether you've read our posts before or this is the first time you're stopping by, we're really glad you're here and hope you come back to visit again!
This post first appeared on Your Mileage May Vary